FAQs
Below we've compiled a list of the most commonly asked questions. If you can't find the answer to your question please do not hesitate to contact us.
How to Order
1. Find the items you want
First you will need to browse or search for the items you would like to order.  The keyword search box is located on the top left of the homepage.  You may also use the menu in the black bar above.  If you still can't find what you're looking for then please let us know and we'll do our best to source them for you. 
2. Add the items to your shopping Bag
If you want to order an item from playingcardsonly.co.uk, click the "Add to Bag" button on the item's product detail page.  Once you've added an item to your Shopping Bag, keep searching or browsing until your Bag contains all of the items you want to order.  You can access the contents of your Shopping Bag at any time by clicking "View Bag" at the top right of our website.
3. Proceed to Checkout
Take a moment to review all of the items you've placed in your shopping Bag.  You may update your Shopping Bag and choose a delivery option.  When you're ready to place an order for everything in the "Shopping Bag", click the "Checkout" button.  You will be taken to the first page of the order form.
4. Returning customer or New customer 
On this page you will be given the option to login as a returning customer or new customer.  As a new customer you will need to provide us with your contact details.
5. Delivery Address 
Please enter the delivery address for this order.  Once you have entered your delivery details, please click on the PayPal checkout button to proceed with the secure checkout process.
6. Payment Options 
Once you have clicked the PayPal checkout button you will be given the option to pay by PayPal, or if you do not have a PayPal account, Playing Cards Only accept credit and debit cards.  Please click on the " continue checkout " link if you do not have a PayPal account.
7. Browers 

Some customers have experienced technical problems using Google Chrome.  If you encounter problems please try using Mozilla Firefox or Internet Explorer.
Need more help?
Playing Card Sizes
Poker Playing Cards or Bridge Playing cards?
Most playing cards come in two sizes, Poker size ( 2.5" x 3.5" ); 63mm x 88mm and Bridge size ( 2.25" x 3.5" ); 56mm x 88mm. 
For home poker games, most people purchase the poker size playing cards.  However, in casinos, almost all poker decks are in fact bridge sized playing cards.  For home use, bridge sized playing cards are better for games like bridge where the player has to hold a lot of cards in their hand.  Most home poker players prefer the poker sized cards for poker games. 
2 Pip or 4 Pip?
In playing cards, pips are symbols on the front side of the cards.
Need more help?
Plastic or Paper playing cards?
The type of playing cards you use will have a great impact on your poker game.  There's nothing worse than playing poker with bad cards on a bad playing surface.  You should probably use one or two decks of plastic playing cards, rather than paper cards.  Plastic cards will last for months or years compared to lasting only one or two tournaments for paper cards.
How do I clean plastic playing cards?
Your cards will last longer if you keep them clean.
To wash your cards, use cold water, mild neutral soap and a soft cloth. Do not use hot water.
Clean only a few cards at a time.
Rub very lightly on both sides of the card and rinse quickly.
Dry thoroughly at once using a clean, soft cloth.
Spread your washed cards on a table and allow up to one hour on each side to dry. Avoid direct sunshine or artificial heating elements.
Occasionally wipe your plastic cards with a damp cloth and let dry thoroughly.
Never use detergent or alkaline soap.
Never wash cards in a washing machine.
Never put cards away damp, either from washing or perspiration.
Never store cards where they will be exposed to sunshine or any other source of heat.
Play on a clean felt table. Playing on poor quality or dirty surfaces will result in scratches which will allow dirt to accumulate on the cards.
Jumbo Index or Standard Index playing cards?
A playing Card's Index refers to the corner markings of a playing card. These corner markings are commonly known as Pips. Jumbo Index playing cards are becoming more popular, and are ideal for Texas Hold'Em and for the visually impaired.  An example of a Jumbo index playing card is shown below.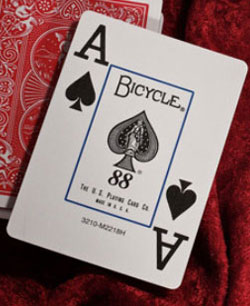 Some card players prefer Standard Index playing cards, and can hold more cards in a hand.  An example of a Standard Index playing card is shown below.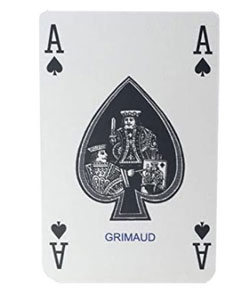 Poker Peek Index playing cards are mostly used by Poker players. The indexes  have been rotated 45 degrees, so when the corner is lifted the indexes are easily visible.  When viewing the cards the player simply turns up the corner in the traditional way and easily peeks to view the index without lifting the card any further than required. 
An example of a Peek Index playing card is shown below.